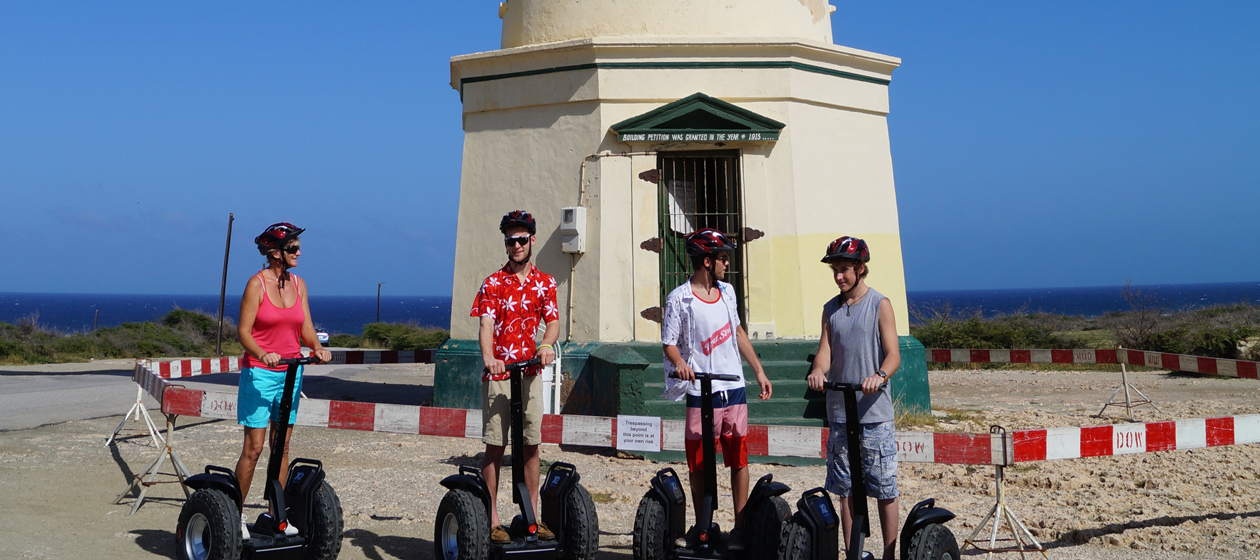 Named after steamship, California that wrecked in 1891, California Lighthouse is the beacon of Aruba. Put into operation in 1914 on the northernmost point of the island, California Lighthouse was made of stones at first. This beautiful lighthouse was restored in 2011 and since then lived up to its image as symbol of hope. California lighthouse has Hudishibana or sand dunes around it which makes it quite difficult to walk. The terrain has moon like, sharp rocks sticking out of the ground, making it difficult for people to walk on without sturdy footwear. It is on this landscape Segway Aruba takes you on the ride of your life.
It is not surprising to see herd of wild goats roaming around the south of the lighthouse. As it is positioned on a high seaside elevation of the mountain of Hudishibana, the picturesque lighthouse has become one of Aruba's scenic trademarks and offers a picture perfect view of the island's western coastline of sandy beaches and rocky coral shorelines.
Tour of this scenic beauty by Segway Aruba begins with gliding along Aruba's spectacular white sand beaches with beautiful ocean views and travel north along the coast. You will experience the rugged North Point where you will truly be off-road on the all-terrain Segway X2. Helmets will be provided, and your English-speaking tour guide will provide a brief but thorough orientation and training session to acquaint you with your Segway X2. Our guides will have you riding like an expert in 15 minutes! When your training session is complete and you feel confident and in full control, the trail and beach adventure begins.
Your 120-minute adventure of California Lighthouse will have to understand the history and local culture of the land along with having best time. Free riding on the North Point, drink on Arashi Beach with soothing Caribbean breeze, end of the tour will take you to the beginning. You will need to bring lots of sunscreen, as the whole day will be spent in the sun, along with comfortable airy clothes and camera for exquisite and lovely memories. Segway Tours Aruba initiates its California Lighthouse Tour begins at the South Beach Building mall next to the entrance of the Hard Rock Café Aruba.
THE TOUR INCLUDES:
Free Pick up and Drop off at your hotel
Guided tour
Historical and cultural narration from our expert tours guide
Segway Training instructions
Free beverage (usually the most popular is fresh coconut)
GoPro camera shots
Security hamlet
COST US$80 PER PERSON
Tour hours
California Lighthouse 09:00 – 11:00 AM
California Lighthouse 01:00 – 03:00 PM
California Lighthouse 4:45 – 06:45 PM
OUR OFFICE: +297-740-7675 FROM ARUBA | FROM THE USA 404-429-2377 | E-MAIL US AT: INFO@SEGWAYARUBA.COM